34 Temples dotting Chichibu Valley
The temples of the Chichibu Pilgrimage are included in the 100 Japanese Kannon Temples along with the 33 temples of the Saigoku Pilgrimage and the 33 temples of the Bando Pilgrimage. These sacred Kannon sites are dotted across three towns and one city: Chichibu city; and Yokoze, Minano, and Ogano in Chichibu county. One circuit of the pilgrimage from the 1st temple, Shimanbeji, to the 34th temple, Suisenji, is about 100 km.
Chichibu Pilgrimage Association website
First Temple - Shimabu-ji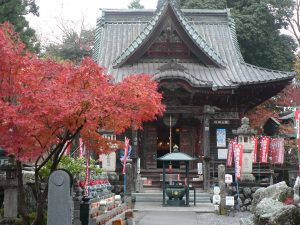 The first temple on the pilgrimage, Shimabu-ji, was built in Genroku 10 (1697) and is known for the magnificent Kannon-do Hall perfectly suited to prayer. Within the grounds is a small kiosk supplying the thin, sleeveless overgarments worn by pilgrims, woven bamboo hats, loop-shaped monk's stoles, walking sticks, books of stamps and other items used by those on a pilgrimage.
Address

418 Tochiya, Chichibu, Saitama Prefecture
Phone
Fourth Temple - Kinshō-ji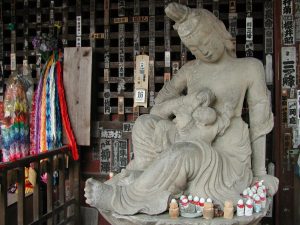 Visitors walking through the Deva gate hung with large straw sandals are greeted by neat lines of some 1,300 stone Buddhas, a Saitama prefectural designated cultural property. Among the stone Buddhas is a humorous temperance Jizo (drunkard Jizo; Jizo being the guardian deity of children) wearing a large cup on its head. And don't miss the Edo-period Jibo (affectionate mother) Kannon (Goddess of Mercy), located in the Kannon-do Hall corridor.
Address

1803 Yamada, Chichibu, Saitama Prefecture
Phone
Thirteenth Temple - Jigen-ji
The massive main temple gate, beautifully decorated Kannon-do Hall, the Yakushi-do Hall (healing Buddha hall) to its right, and images of the 13 deities said to have established the Chichibu Temples are all highlights of this temple. During the Ame Yakushi festival on July 8, the temple grounds bustle with people praying for healthy eyes.
Address

26-7 Higashi-machi, Chichibu, Saitama Prefecture
Phone
Fifteenth Temple - Shōrin-ji
Once part of Chichibu Shrine, this temple was established in its current form following a merger of Hahasozan Zōfuku-ji and Goyōzan Shōrin-ji temples. An offering depicting the wonder of the Goddess Kannon is located within the Meiji-era Western-style architecture of the white plaster walls of the Main Hall.
Address

7-9 Banba-machi, Chichibu, Saitama Prefecture
Phone
Seventeenth Temple - Jyōrin-ji
The temple's Buddhist bell, designated an art treasure by Saitama Prefecture, is engraved with exquisite reliefs of Japan's top 100 principal objects of worship at temples. Originally, this temple was erected as the city temple of a forestry family, hence it is also known as "rin-ji" (forest temple).
Address

21-3 Sakuragi-machi, Chichibu, Saitama Prefecture
Phone
Twenty-third Temple - Ongaku-ji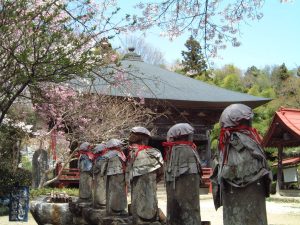 Situated beside Chichibu Muse Park, the name of this temple prompts some singers to visit and pray for a hit. The Buddhist bell used to signal the Chichibu incident in 1884 is still a strong presence.
Address

3773 Terao, Chichibu, Saitama Prefecture
Phone
Twenty-eighth Temple - Hashidate-do
The only temple of the Chichibu Temples in which Bato Kanzeon is enshrined. The temple backs onto an 80-meter high rocky mountain complete with rock shelter remains which indicate that Jomon people once lived in the area, giving visitors a tantalizing glimpse of ancient times. Also, the minor temple at the rear is a limestone grotto which is a treat for tourists.
Address

675 Kamikagemori, Chichibu, Saitama Prefecture
Phone